www.tlab.it
Corpus and Sub-sets
---
A corpus is a collection of one or more texts selected for analysis.
Each corpus subset is defined by means of a category of a variable.
T-LAB makes it possible to explore and to analyse the relationships between the analysis units of the whole corpus or its subsets.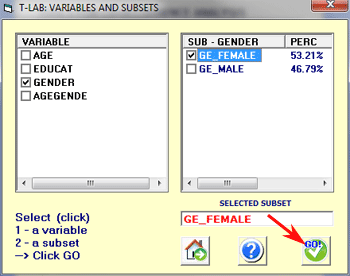 Some corpus examples:
a single text or document concerning any subject;
a set of articles taken from the press, concerning the same subject;
one or more interviews carried out inside the same research project;
a set of answers to an open-ended question;
one or more focus group transcripts.
Some subset examples:
one or more chapters of a book;
one or more newspaper articles published in the same year;

one or more interviews with the same people category;

a subset of answers to an open-ended question.

N.B.: Further corpus subsets are the "thematic clusters" of documents or elementary contexts obtained by using the corresponding T-LAB tools.
In the case of a corpus made up of more than one text, in order to make it a set correctly analysable, it is required that all of its parts have two features that make them comparable:
a) a thematic and/or contextual homogeneity of their content;
b) a balanced relationship between their dimensions, both in terms of occurrences and in terms of Kbytes.
In T-LAB logic, the corpus is a database set up in records and fields. More precisely, records are made up of recorded entities (texts, text segments, words) and fields are made up of labels used to classify the different entities (text authors, reference contexts, word types, etc.).
See Corpus Preparation.
---